Are you looking for an email marketing service to help you expand your business and effortlessly communicate with your audience?
Email marketing is more effective than ever in turning website visitors into loyal patrons. It aids in relationship development, brand exposure, and revenue and sales growth.
However, choosing the best email marketing solution will have a significant impact on how well your campaigns perform.
What is email marketing?
Email marketing is the use of email to promote products or services while developing relationships with potential customers or clients

The balance
examples of email marketing is the Nike email campaign shown below. Again, a reminder that less is always more when it comes to creating effective email marketing copy.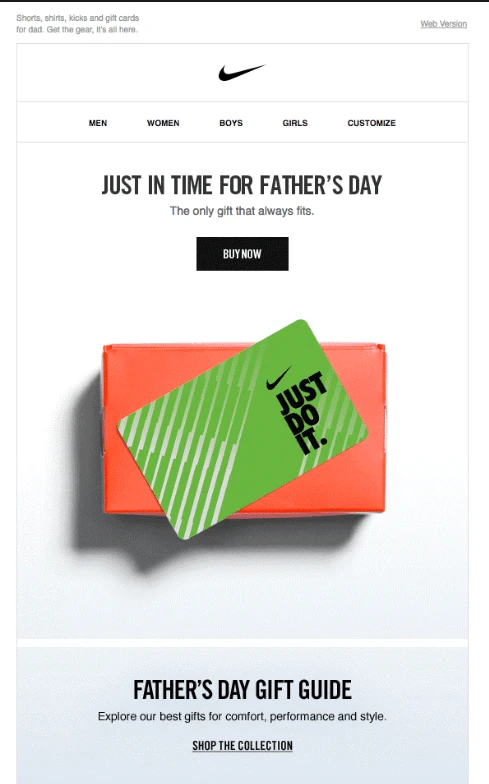 To help you choose the greatest email marketing services for your company, we've compiled a list of them below.
Why do you need to select the Best Email Marketing Service?
One of the most economical marketing strategies for small businesses is email marketing.
The Direct Marketing Association reports that businesses in the United States typically receive a ROI of 4300 percent from email marketing.
This is so that you may build a direct line of communication with your customers and manage your email marketing easily.
It's crucial to realize that your email marketing success will depend heavily on the software you use because they are in charge of ensuring that your emails are actually sent.
What to Look For in A Good Email Marketing Platform
You should be able to create extremely engaging email newsletters using a solid email marketing service's simple user interface (ideally a drag-and-drop editor).
Sending mass emails that are genuinely tailored and targeted shouldn't take much effort. Marketing automation is another name for this.
In addition, your email marketing provider must make it simple to classify consumers into groups, manage your contact list, and track the effectiveness of your email marketing campaigns.
What we advise looking for when choosing an email marketing company is listed below:
Stunning templates to produce captivating emails
Easy-to-use email builder and customization possibilities
Process automation options include drip series and triggered emails.
support for broadcast and bulk emails
High deliverability rate ensures that emails are sent to the inbox instead of the spam folder.
Using contact segmentation, you may interact with subscribers based on their interests.
tracking email messages and performance analytics to boost output
Support by phone and email
Now, let's examine some of the most well-known email marketing service companies and see how they compare to one another.
1. Constant Contact
One of the biggest and fastest-growing email marketing services in the world is Constant Contact. Additionally, it is the most user-friendly email marketing service for beginners.
Your email lists, contacts, email templates, marketing calendar, and more are all simple to manage.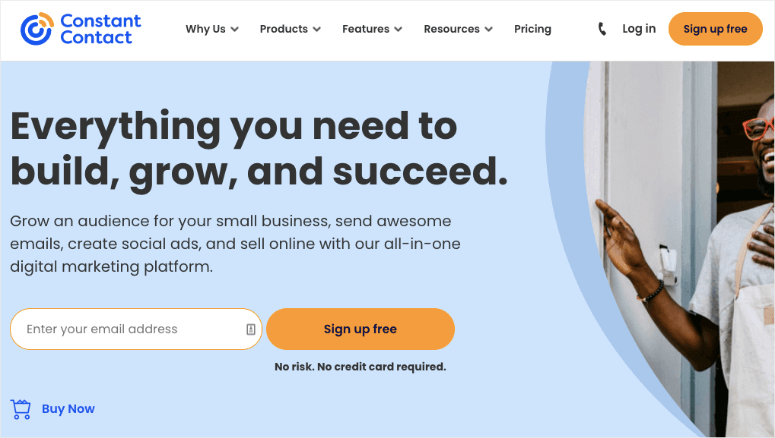 You have access to limitless emails, simple tracking and reporting, integrated social media sharing tools, a free image library, list segmentation, Facebook ads integration, and a strong eCommerce integration for Shopify stores with each account.
Additionally, their Email Plus accounts include strong features like
email automation, drip marketing, surveys & polls, coupons,
online donations
subject line A/B testing, which make it possible for you to send targeted emails and increase your open rate.
Other marketing features for faster growth
Analytics and metrics reports to track success in real-time
A 60-day free trial is offered by Constant Contact. After that, their monthly price starts at just $ 9.99.
2. Sendinblue
One of the greatest email and SMS marketing programs is called Sendinblue, and it was made to be easy enough for a complete novice. Without previous experience, you can start running effective email marketing campaigns.
Even if you don't have any design experience, SendinBlue's drag-and-drop builder enables you to generate beautiful emails.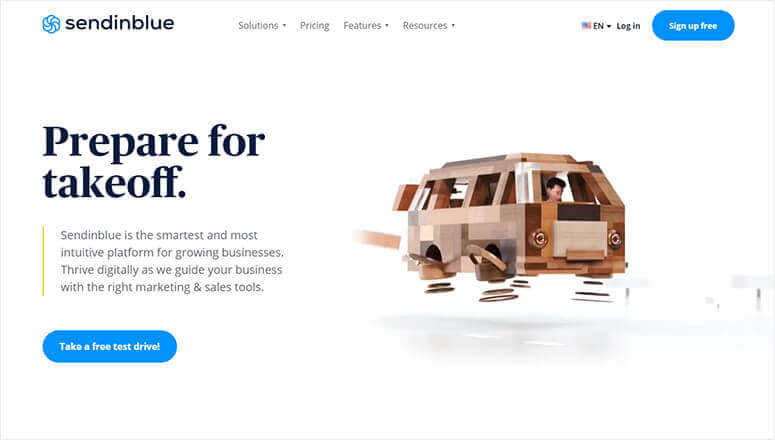 Following that, you can segment your subscribers. Because of this, you may create personalized autoresponders and target various groups according to their interests. To increase click-through rates, you can even change the subject lines for these emails.
FEATURES
Easy-to-use marketing automation features
intelligent segmentation
AI-driven mechanism to deliver emails at the right moment
A/B testing to determine which campaign is the most effective
only pays for the emails you actually send.
Recently, they upgraded their premium plan to incorporate more sophisticated tools including a landing page builder, live chat, sales CRM, and Facebook ads integration. Users now receive greater value for the same price, so to speak.
You can utilize SendinBlue's standalone SMTP bulk email marketing service to power automated or transactional emails from your WordPress website. Although you don't require this for email marketing campaigns, it's a wonderful feature to have if you have a huge website and want real-time, automated emails depending on content.
Free Plan: You can send 300 emails per day to an unlimited number of contacts with the free lite edition.
Premium Plans: No daily sending cap, starting at $25 for 20,000 emails each month.
3. AWeber
One of the oldest and well-known email marketing service providers worldwide is AWeber. They provide a variety of tools for managing email marketing for small and medium-sized enterprises.
Everything is quite easy on the platform. The majority of platforms, including WordPress, are easily connected.
Email newsletters can be created using beautiful predefined templates. To modify the templates and alter the email design, there is also a drag-and-drop email builder.
You may streamline your process with AWeber by automating email sequences.
FEATURES
Push notifications, landing pages, and email
using professional templates and pictures when creating emails
Automated behavior
abandoning the cart and purchasing tagging
segment and choose your audience
modern analytics for accounts and audiences
Free Plan: Limited features and a cap of 500 subscribers.
The pro plan also offers a 30-day free trial. Starts at $19.99 per month for premium plans.
As the cost reduces to $16.15/month when you pay yearly, you can save much more money.
Need help with your Email marketing? We are at your service
4. HubSpot
Hubspot email marketing solution is free to start using and includes several potent automation capabilities that are intended to help you expand your company.
With the help of their simple drag-and-drop email builder and assortment of themes, you can make a totally unique newsletter that reflects the spirit and colors of your company.
You may design highly tailored campaigns to increase click and open rates by integrating your CRM with your email marketing.
Because HubSpot provides an all-in-one marketing platform with email marketing, CRM, automation workflows, sales tools, website builder, operation hub, and more, it is one of the key reasons small, medium, and corporate customers make use of it.
All of HubSpot's free marketing, sales, support, and operations features are included in the free plan for HubSpot Email Marketing, along with the CRM.
You are able to send 2,000 emails and keep an infinite number of subscribers with the free version.
You can design landing pages, manage and track your online ads, develop personalized registration and popup forms, and more. It comes equipped with everything you need to get going.
5. Drip
For bloggers, digital marketers, and those in the eCommerce space, Drip is a powerful commercial email marketing tool. They provide a variety of solutions to make personalisation, sales funnels, and marketing automation simple.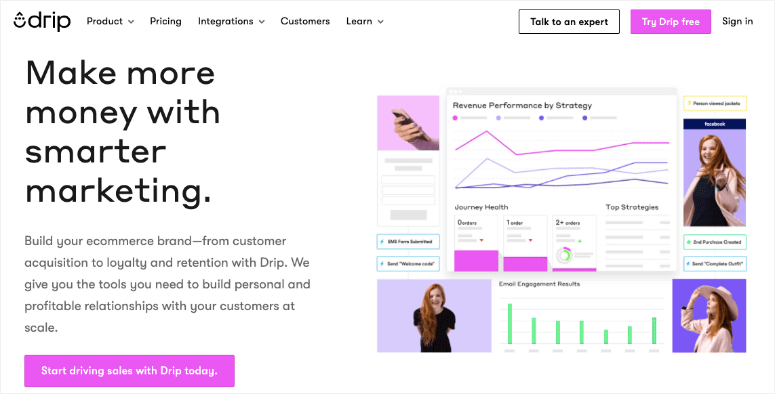 They provide seamless connection for all well-known website builders, such as WordPress and WooCommerce, with their email software. As a result, adding pop-ups or opt-in signup forms to your website is simple, enabling you to collect more leads.
What sets Drip apart from the competition?
automated marketing tools with intelligence
List groups
split testing
smarter email segmenting
and a visual drag-and-drop builder for automation processes
Additionally, there are numerous integrations that allow you to send text messages, show Facebook ads, and do much more depending on the workflow of your customers.
You may now communicate with your users on both the email and SMS marketing channels thanks to the recent addition of SMS notification as a feature to all plans. As a result, they become a real all-in-one email marketing platform for business owners.
Drip offers a free trial and all-inclusive monthly plans starting at $49 a month.
6. Moosend
For small enterprises, Moosend offers a cheap email marketing service. It has a variety of strong marketing automation capabilities, landing pages, and tools for building email lists.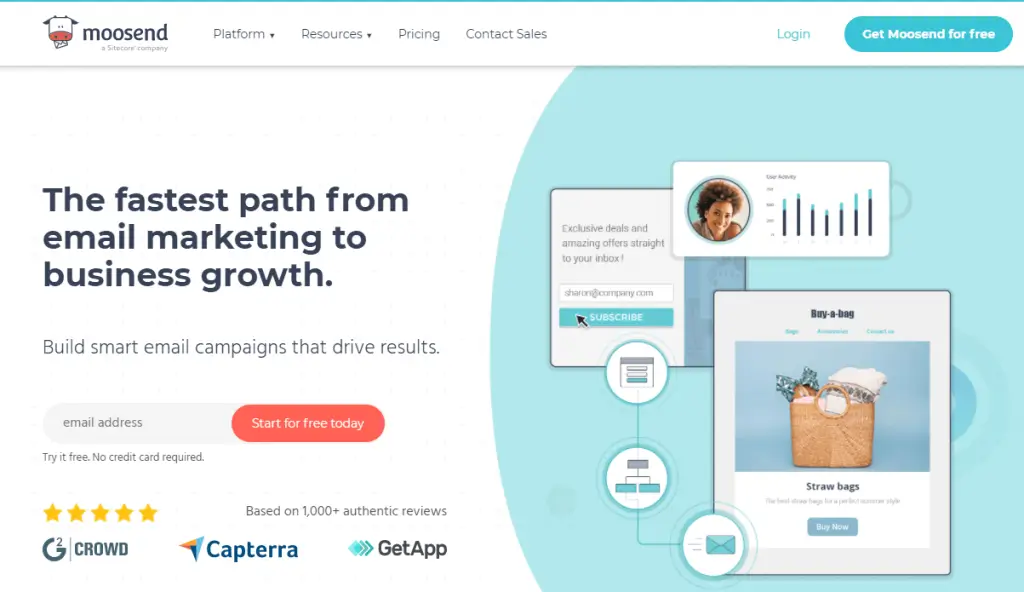 Using one of their many pre-made email templates or by designing a totally unique template, you can rapidly build an email newsletter and adjust the email look to match your brand in just a few minutes.
Moosend offers more than 70 expertly designed email templates from which to choose as a starting point. Or you may use the drag and drop editor to create your own unique email template from scratch.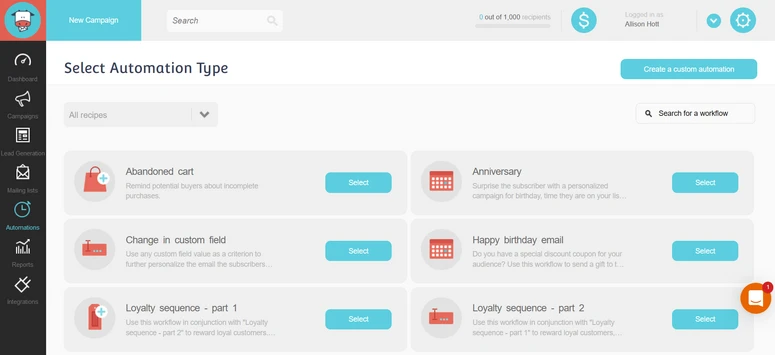 Along with strong marketing automation workflows, Moosend also provides this service. You can create your own recipe without any coding knowledge by using one of the tried-and-true premade recipes.
You can monitor critical metrics like email openings, clicks, bounces, product views, transactions, custom event tracking, and even forecasted demographics data with Moosend's extensive email analytics.
A/B testing, email heatmap analytics, countdown timers, conditional content, an AI-engine for product suggestions, popup forms, floating bars, newsletter signup subscription forms, and other effective conversion optimization tools are included with all subscriptions.
For an infinite amount of emails and up to 1,000 email subscribers, Moosend offers a perpetually free subscription (no credit card required). After that, their Pro package, which includes a landing page builder, transactional emails for eCommerce websites, team management, and more, starts at $8 per month.
7. Omnisend
For online retailers seeking an omni-channel marketing automation solution, this is a potent SMS & email marketing tool.
Because it contains all the useful tools like pre-built automated workflows, subscriber segmentation, A/B testing, performance reporting, and even SMS + online push notification, they offer one of the most generous free email marketing plans.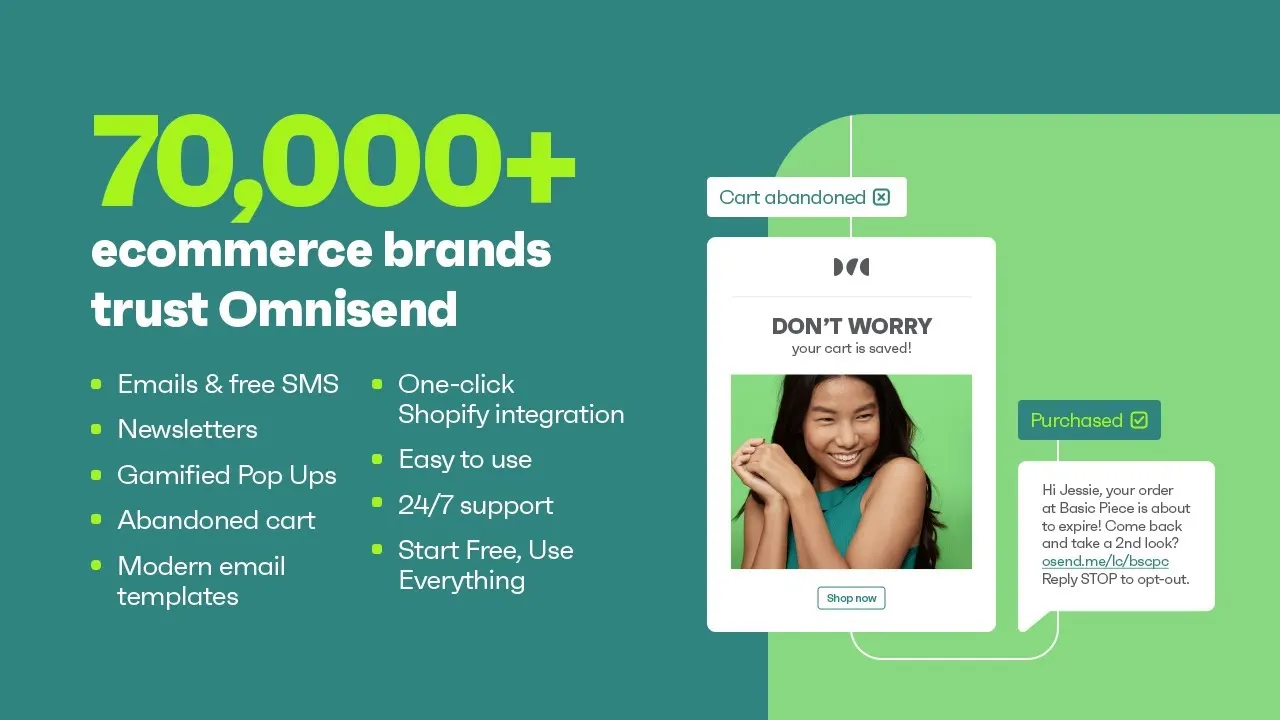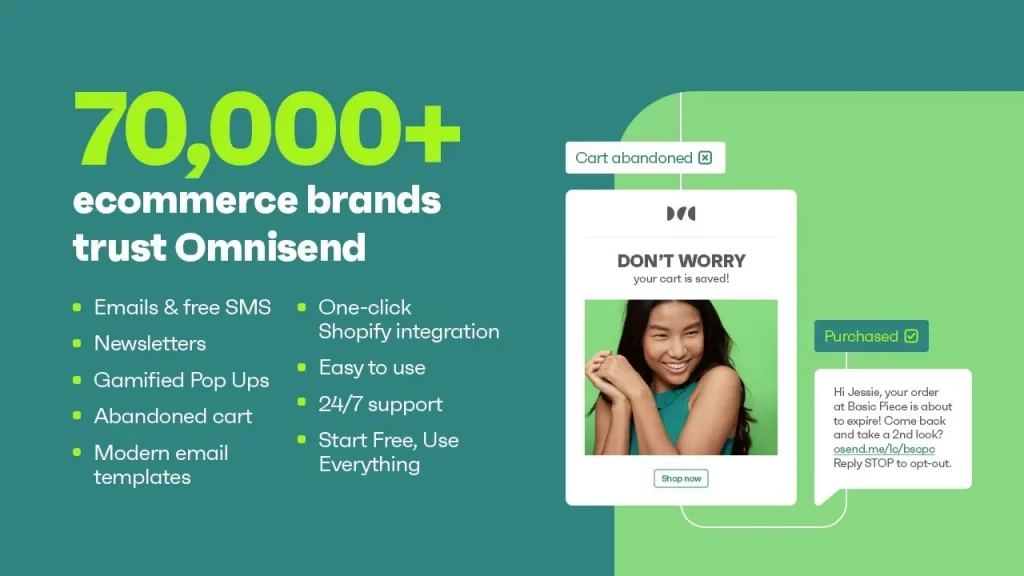 Since Omnisend is confident in their value proposition, they offer almost everything in their free plan, unlike the majority of other free email marketing programs that have limitations. You will need to switch to their paid plans when your contact list expands.
You can easily design stunning, brand-consistent campaigns using their email builder, which has a huge range of email themes.
Once it's configured, you may use their robust targeting and segmentation options to customize the email.
Many people adore Omnisend because it comes with built-in SMS capabilities, eliminating the need to purchase additional software, and since their SMS feature enables you to send messages in 209 different countries and regions.
You may reach up to 250 subscribers with their free email marketing plan, and their paid options start at $16 per month.
8. ConvertKit
This is dope email marketing tool for content creators like bloggers, podcasters, and YouTubers. You may design eye-catching forms and send each subscriber a unique email.
It comes with the following features:
Beautiful sign-up forms, landing pages, and link pages
Easy to use email editor and user interface Effective email and sales funnels
Rules and triggers for automating emails
segment and choose your audience
several integrations with marketing
They provide a 14-day free trial, with monthly prices beginning at $29, for their services. A 30-day refund period is also available.
9. Mailchimp
Because they provide an email marketing solution that is eternally free, Mailchimp is among the most popular companies in the world.
A simple drag-and-drop email builder, autoresponders, grouping contacts into categories, email marketing templates and basic tracking for analytics are all included with Mailchimp.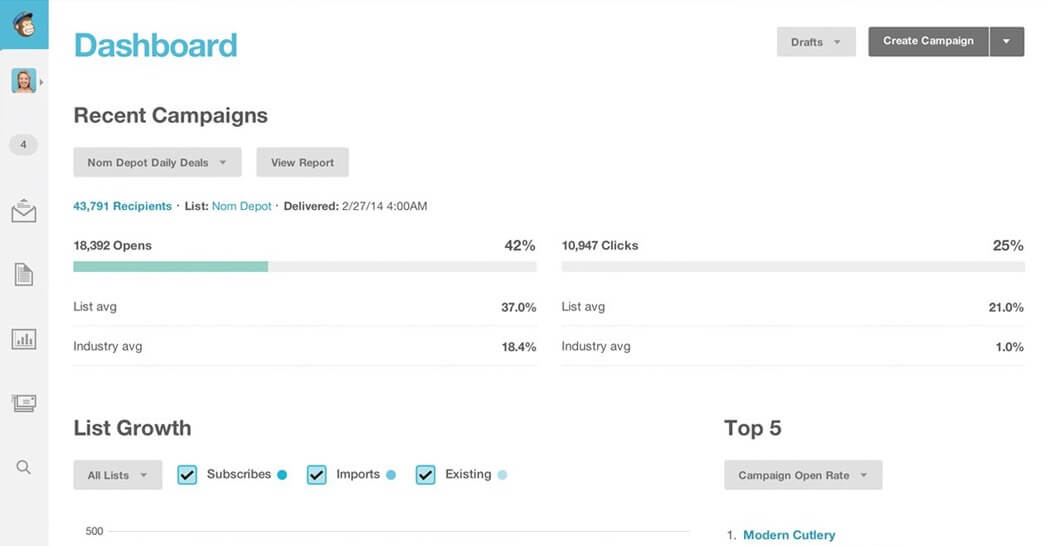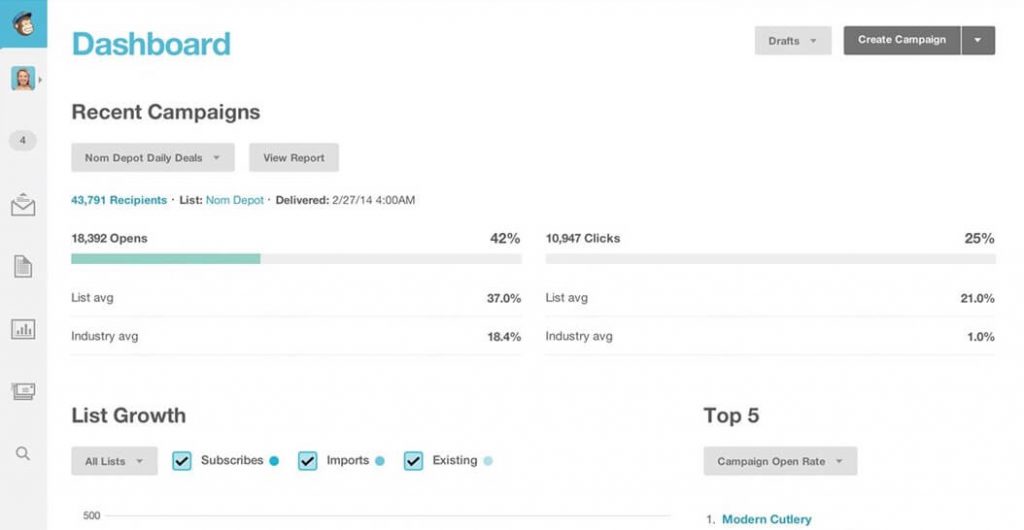 Additionally, it lets you set up segmenting based on geolocation and delivery schedules based on the time zones of the user.
WordPress, Magento, Shopify, and many other platforms are simple to integrate with MailChimp. Also, Mailchimp provides pre-built templates and ready-made divisions so that you can quickly create emails that seem professional.
Free Plan: Mailchimp offers a free plan that you may start using and increase as your business expands.
With Mailchimp, you can send 12,000 emails every year to up to 2,000 subscribers for free. Due to the absence of capabilities like send-time optimization, advanced segmentation, multi-variate testing, etc., this approach is quite constrained.
Additionally, you must include their branding in your email. Last but not least, help is limited to email only, which is acceptable if you're a hobbyist but you need trustworthy support if you run a professional business.
This is excellent for new companies and startups who want a straightforward strategy to launch.
Premium Plans: Monthly fees for paid plans start at $11 for 500 contacts and rise as your subscriber base grows.
10. GetResponse
You have access to a top-notch inbound marketing solution with GetReponse. With the help of their assortment of free lead generating and marketing solutions, you may expand your audience and get new clients.
Features include:
Transactional and email marketing
website creator
Paid ads
Popup windows
Website tracking for autoresponders
both live and recorded webinars
There is a forever-free business plan available.
Plan prices begin at $13.30 per month (on a 24-month plan).
Read also:
Which is the BEST Email Marketing Service?
There are numerous email marketing services available, and we want to ensure that you pick the best one for your company's requirements.
Here is our professional email pick: There are different email marketing strategy to deploy.
We advise using Constant Contact whether you're a new blogger, small business, or nonprofit. They have excellent pricing and an outstanding support staff.
Your success with email marketing will be accelerated by their onboarding team. The best eCommerce email marketing software is provided by Omnisend or Drip, which we advise utilizing if you have an online store or ecommerce website.
They have quite potent personalization and automation tools which you want to use to personalize emails based on user behavior such as abandoned carts, first-time users, return buyers, etc.
We suggest using SendinBlue if you're a business owner looking for a robust marketing automation product that integrates email marketing, SMTP bulk emails, and SMS texts.
You can handle SMS and email from a single interface, and their platform is simple to use. The greatest free email marketing program, they also provide a rather generous lifelong free plan.
We suggest adopting HubSpot if you're searching for an all-in-one email marketing solution. They provide a robust set of marketing tools, including live chat, email marketing, CRM, sales tools, and more.
The fact that you can store an unlimited number of subscribers makes the free plan excellent for lead generation.
Wrapping it up
Following your selection of an email marketing provider for your company, you'll probably want to start acquiring more email subscribers.
The amount of subscribers you have, the total number of emails you send each month, and the email platform you use will all have an impact on how much money you spend on email marketing.
Given that they handle their own campaign, small businesses often spend $20 to $300 each month on email marketing. Your cost may be as high as $500 per month if you work with an email marketing agency.