The path ahead is difficult if you are a startup owner or intend to become one. Though we don't want to be discouraging, the truth is that 20% of businesses fail in their first year and that roughly 50% of them shut down within five years.
Startup entrepreneurs just have too much on their plates, which is the cause. Startups are often run by solopreneurs or small teams of multitaskers. Sales and marketing may suffer as a result of all the activity, which is a genuine shame.
A new company might never succeed without a good marketing plan to generate leads and powerful sales tactics to turn those leads into real money. This has been well refined and can be the best you read on sales and marketing tips for startups in Nigeria
Best Sales and Marketing Tips for Startups
When the risks are this high, a busy business entrepreneur doesn't really have the time or resources to explore. Because of this, we've come up with 15 practical steps that successful startups employ to boost sales and marketing. You can find the best startup marketing campaigns below for your use.
1. Have a Clearly Defined Strategy
An effective strategy offers a good direction, consisting of a set of guiding principles or rules, that outlines the actions that business people should take (and should not do), as well as the priorities that they should set in order to reach desired goals.
You might want to try different things when it comes to sales and marketing during the early phases of launching and growing your business. It is crucial to recognize the value of a defined sales and marketing plan.
This can help you determine who your target audience is, clarify your message, select where to concentrate your efforts, and ensure that you stay on course to meet your objectives.
2. Define Your Audience
You must first identify your target audience in order to decide how to market and sell your firm. Despite the fact that this seems simple, 42% of small businesses get it wrong.
They incorrectly determine the needs of their intended audience. They create goods that the market neither needs nor values.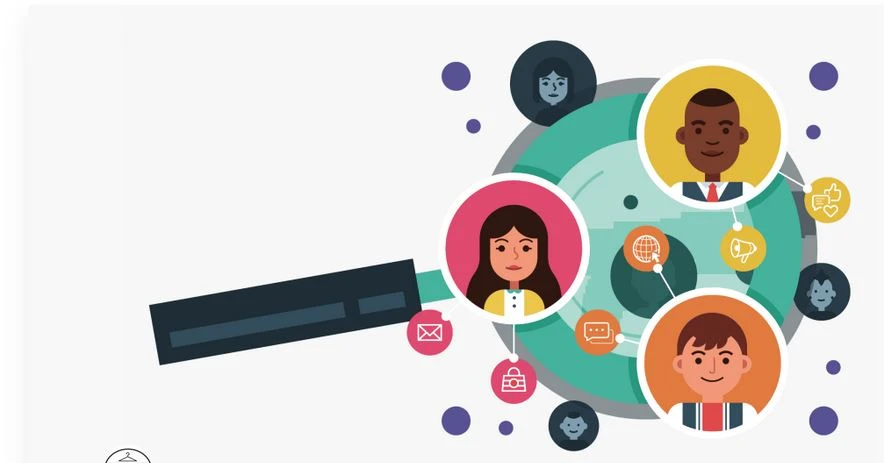 Determine the target audience for your marketing efforts.
Who is the perfect client for you?
What market segments are you overlooking or hoping to better reach? Need help defining your audience? Get in touch for a free consultation
Once you've defined it, let it guide your other decisions.
3. Define Your Content Pillar (Message)
Your content is another crucial component of your marketing strategy. Create and specify a clear messaging plan to determine what you want to communicate to your audience.
Once your message has been established, keep it in mind for all of your sales and marketing initiatives. In everything you do, your message should be as clear as possible.
4. Offer Value
All of your product's features are not important to customers. How well your services compare against the competition is irrelevant to them. Customers want to know how your goods or service will improve their quality of life.
Your company must be the answer to the problems that your customers need answered because they have them.
Avoid the error of emphasizing your advantage over the competition in your marketing. You must decide what makes your offer special and explain to them in a compelling way why they should do business with you.
Knowing precisely how your offering will benefit your clients can help you assess the value of your company.
Gaining consumers for your business will be simpler when you can precisely describe their difficulties and then explain how your service solves those concerns.
By describing the worth of your company, you will also discover that it is simpler to advertise your company successfully and complete deals with exceptional selling.
5. Create Awareness before your product is ready
Waiting until your product is finished to start marketing your business is a really bad idea. When your product is truly available, carrying out this strategy causes anxiety and trepidation. This is a result of the money you have been spending on creating your product and launching your company.
As a result, you have lost money on development expenses and are still losing money as a result of the lack of sales in your company. Therefore, you must start earning money right once in order to pay off your debts and turn a profit.
You pitch prospective clients on the value that your good or service will deliver because you are aware of it.
They will be motivated to make a purchase based on the outcomes you guarantee if you can demonstrate how your service will improve their business performance or solve their existing difficulties.
In order to generate revenue while your product is still being developed, you must begin marketing your offer.
6. Think outside the box
Do not be limited in ideas or marketing options to explore. You can research where and how to reach your audience. The extent of your marketing budget is not a constraint. If you do not have budget for the traditional marketing methods like TV, Radio or experiential marketing. You can leverage social media and other internet marketing options
With the help of digital marketing platforms, you may connect and interact with people everywhere.
If you are producing excellent material on each of your websites, blogs, and active social media accounts, you can expand your business by spending little money.
8. Use Storytelling
By incorporating storytelling into your sales strategy, you may engage prospects on a deeper level and eventually gain more clients.
The most effective sales tales are those that demonstrate how your product may be used to resolve actual customer issues.
Find related client experiences that reflect the problems or circumstances of your prospect's company, and you'll have a strong argument on your hands.
9. Highlight Risks and Opportunities
Be honest with your prospects about any risks involved in switching to your platform or pursuing this new strategy rather than pitching your service as the only solution to their "issue."
Why would you strive to provide your prospects with a false reality when the truth is that there is no opportunity in business without some element of risk?
Instead, center your sales strategy on proactively identifying the dangers connected to utilizing your solution. Then, provide even more help to demonstrate to the prospect that you are aware of these risks.
Read also:
Best Email marketing service provider for small and medium businesses
10. Reach out and Build Links
The goal of any link builder should be natural links that you would want even if Google wasn't going to reward them. Links pointing to your business from respectable, well-known websites are a priceless endorsement for your business among potential clients.
Try to build links and grow and be rated an authority and taken seriously.
11. Listen to your customer
With the advent of digital marketing, customers love 2-way communication and digital is just the best fit for this unlike the conventional method of marketing that is one way.
It is incredibly simple to obtain a sense of what your customer base thinks because of the interactive nature of digital marketing.
Read reviews carefully, pay attention to forums, and keep an eye on what others are saying about you on social media.
Then, and this is the most crucial step, be receptive. Use their input to enhance your procedures and methods, not just for dealing with customers, but also for running your company more generally.
Never presume to know what your customers want without first communicating with them. If you create goods and services based on assumptions, your customers won't buy them.
You will work very hard to promote and sell your offer, but you will become discouraged when your efforts are ineffective. This is due to the fact that you are not offering your customers the goods and services they really want.
12. Involve PR
There are a lot of fresh and modern sales and marketing tactics available in 2022. This does not, however, imply that you should disregard more conventional tactics like public relations.
PR that adapts to the modern communications landscape may be very effective in spreading your message and is a crucial component of marketing for startups.
Good PR not only promotes your name but also helps your brand become more credible.
13. Create Opportunities For Your Customers To Talk To You
Establishing one or more channels for consumer feedback on your business is essential. This might be comment sections on your blog, forums, live chat apps, online feedback forms, or forums.
First of all, you will undoubtedly benefit from having a clearer understanding of what your customers are thinking, which will enable you to be more responsive.
However, by demonstrating your concern for their wants and feedback, it will also help you develop ties with them and encourage loyalty.
14. Attend Industry Events
Face-to-face encounters with customers are still one of the most effective ways to sell and advertise, despite the fact that marketing is moving toward online platforms.
Industry-related events are great places to meet people. You get to talk with people your own age, investors, and subject-matter experts.
If you have the funds, you might want to think about co-sponsoring an event where you hope to give a speech. You may effectively pitch your brand and business by doing this.
You can build credibility in the market if you win a few awards. Through your newsletter, website, and social media profiles, you may inform people about the high-profile events you attend.
Additionally, this can assist you in keeping up with the most recent advancements in your field. You can plan your strategy for subsequent campaigns using this data.
15. Encourage Recurring Business
It may be time-consuming, expensive, and — let's face it — quite challenging to draw in new clients and convert them.
Ensure to keep your current clients
Encourage current clients to continue doing business with you and make more purchases of your goods and services.
There are several ways to achieve this, including loyalty programs, discounts and offers for loyal consumers, and cultivating a strong sense of community among your customers.
16. Reward your existing customers
Your brand's advocates are your customers. Their recommendations can help you draw in new clients, and they can sell your items even more effectively than seasoned sales representatives. Make sure to generously thank your valued consumers.
Typically, startups don't have a lot of money. Giving away expensive gifts may not be an option. However, you can provide them preferential treatment and special discounts.
They can even get first dibs on forthcoming products, or you can charge them less for after-sales services. A fantastic strategy to encourage customer loyalty is by implementing a rewards program.
To avoid turning into a hollow gesture, it's crucial to widely advertise your client loyalty program. Let clients know how to use the reward points they have accumulated.
17. Create Urgency
Most individuals wait to purchase until the very last minute, or until they absolutely need your product.
This means that if your prospects are not persuaded to move right away, they will postpone taking action until "I don't know when".
Realizing why your prospect needs your solution immediately and assisting them in taking immediate action that can benefit their organization is two key components of creating a feeling of urgency.
Naturally, urgency needs to be real to be effective.
Knowing why people need your product right now is necessary if you want them to feel compelled to acquire it.
Few samples to create urgency in your communication
Limited enrollment: Offer to enroll them in your 10-client, limited program that is evaluating the new product.
Upcoming price increases: Customers will value an enhanced product more, thus you should raise the price. Price hikes should be announced beforehand to encourage prompt purchasing.
Custom offers: Think of providing a particular service, advice, instruction, or plan upgrades in exchange for your decision today.
18. Employ Free Trials Wisely
If you use a free trial well, it can significantly increase the number of paid signups for your business.
Two elements of a smart trial are as follows:
Make it Short: A free trial's purpose is to encourage suitable customers to sign up for a paid plan as soon as possible. You'll improve the likelihood that prospects will take your plan seriously and thoroughly evaluate your product if it is kept brief—no longer than 14 days.
Make an effort to enroll new users; don't just let your clients explore on their own. Create an onboarding funnel that will assist your prospects in achieving their first modest success with your product.
Your chances of conversion will increase and you may make more money from your free trial when you set a time restriction and assist your prospects to see actual outcomes from using your product.
19. Employ Email Automation
As your business grows, automation becomes increasingly important because manual communication can only carry you up to this point.
The intention is to reinforce the desired behavior to promote conversion. Consider your customer's trip first.
Create a series of automated emails that are intended to persuade your newest readers and subscribers to experience that same favorable effect or result by speaking with your current, successful customers to learn what motivated them to join up.
20. Try Numerous Advertising Strategies To Support Others
The fantastic possibility to apply specific marketing strategies to benefit others will be one of marketing's greatest assets in 2022.
Keep an eye out for ways that your inbound marketing strategies can complement one another for even better results to ensure that you don't miss out on this inbound marketing synergy.
Wrapping up
We have enumerated the best marketing tips for entrepreneurs and we wish to conclude by saying you need to start by setting goals.
Your sales strategy should incorporate both long-term objectives consistent with the business's mission and short-term objectives centered on closing enough deals this month or this quarter.
Track and Examine Sales Information to Modify Your Sales Approach
You may evaluate the effectiveness of your sales strategy and determine whether it needs to be changed by monitoring sales KPIs including conversion rates, team activity, client lifetime value, profit margin, and sales velocity.