Virtual and augmented reality (VR and AR) have made significant strides in technology, providing immersive experiences that blend the real and virtual worlds. The way we engage with information, entertainment, and one another could be drastically changed by these disruptive technologies, which have the potential to overhaul many sectors.
In this article, we will look into the ideas of Virtual Reality and Augmented Reality, comprehend how they function, investigate their applications, consider their benefits and drawbacks, contrast the two technologies, and take a sneak peek at emerging trends in VR and AR.
What is Virtual Reality (VR)?
The phrase "Virtual Reality" refers to a virtual environment that might mimic the real world or be completely unrelated to it. An immersive experience is made possible by a mix of cutting-edge hardware and software, allowing users to interact with and explore virtual environments. The user commonly feels present in the virtual environment when using a headset that covers their eyes and ears while engaging in VR.
How Does Virtual Reality Work?
The display system, the tracking system, and the input system are the three main parts that virtual reality depends on. The display system shows visual content to the user's eyes on a typically high-resolution screen. A fluid and responsive experience is made possible by the tracking technology, which tracks the user's movements and instantly modifies the perspective. Users can interact with the virtual environment by using controllers, hand gestures, or even body tracking sensors thanks to the input system.
Applications of Virtual Reality
Virtual reality has a wide range of uses in a number of different fields, including gaming, medicine, education, architecture, and more. VR offers players in-game immersive experiences that are unmatched, putting them in virtual worlds where they may interact with people and places in novel ways. VR is utilized in healthcare for therapeutic experiences, training medical workers, and even simulations. Additionally, virtual reality (VR) has found uses in the classroom, enabling students to explore historical locations, carry out virtual experiments, and take part in immersive learning experiences.
Advantages and Disadvantages of Virtual Reality
There are various benefits to virtual reality. Users can experience events like space travel or high-risk training drills that could be otherwise impossible or dangerous. By enabling users to view the world from various perspectives and thus build tolerance and understanding, virtual reality can help promote empathy. VR, however, has significant limitations. For some people, it may result in motion sickness or other discomfort, and the exorbitant price of VR equipment may prevent its widespread use.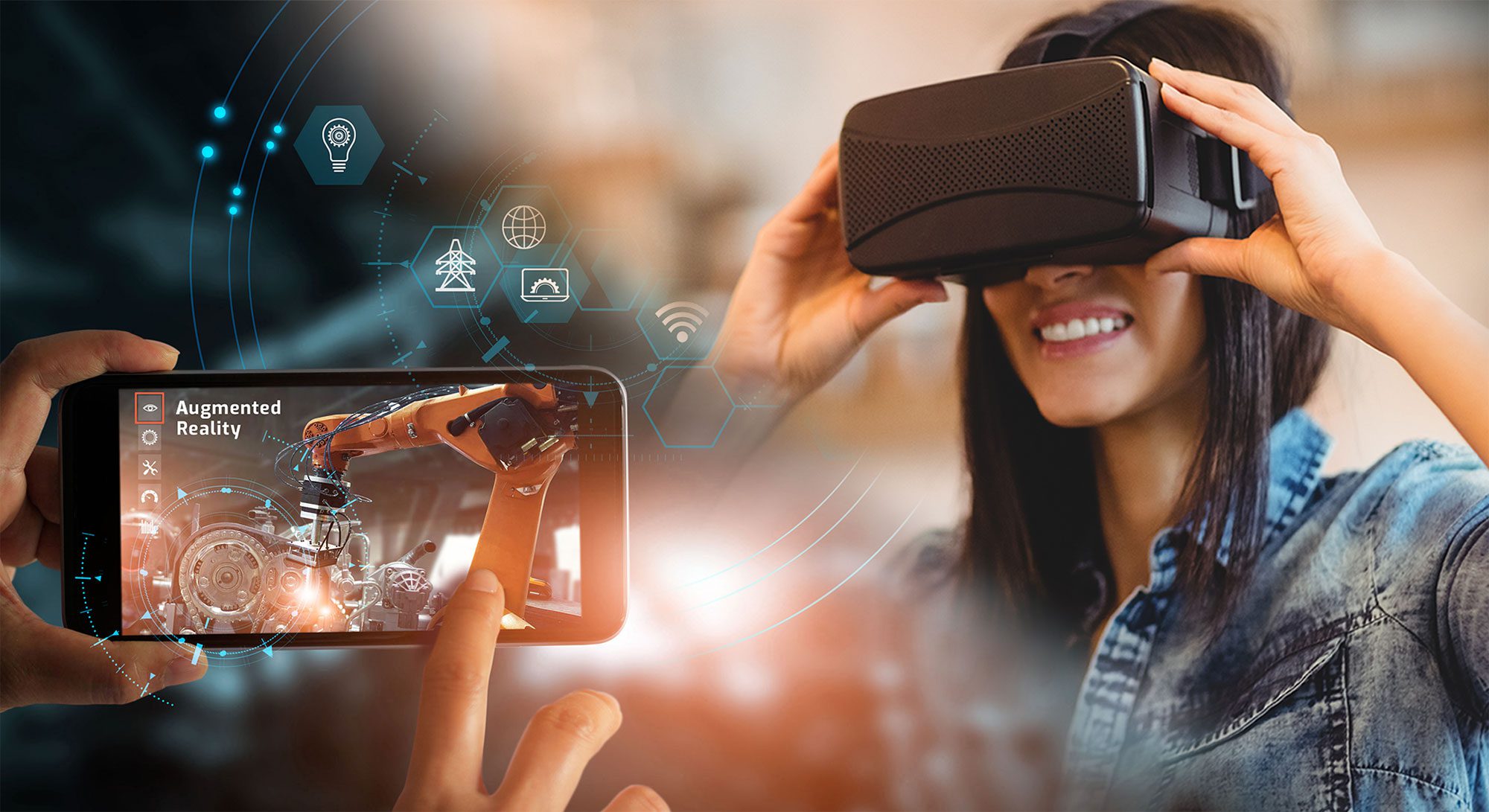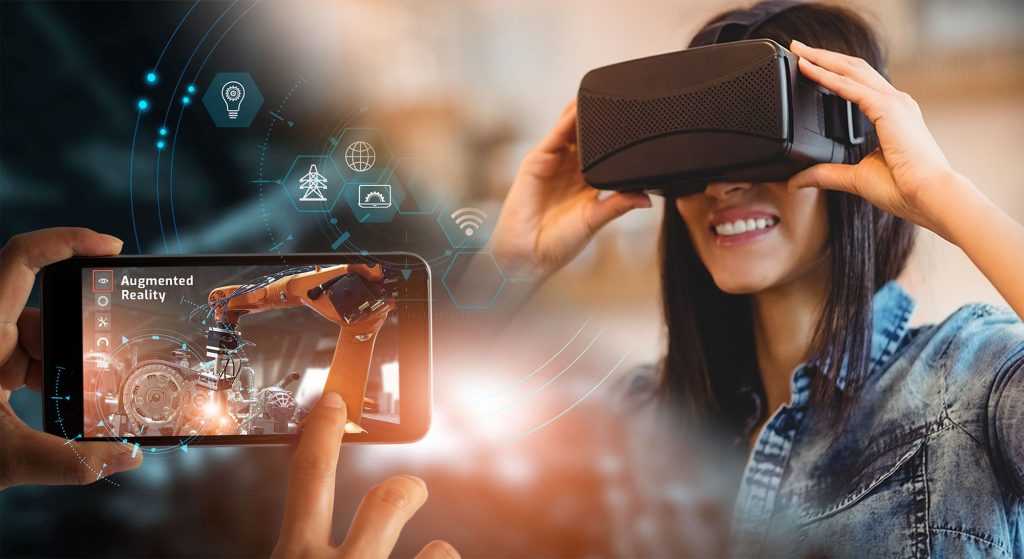 Image source: GPstrategies
What is Augmented Reality (AR)?
The term "augmented reality" describes the blending of digital content and virtual aspects into the physical world. AR superimposes virtual things over the user's perspective of the real world, as opposed to Virtual Reality, which produces a fully immersive experience. Several devices, including smartphones, tablets, smart glasses, and headsets, can be used to enjoy augmented reality (AR).
How Does Augmented Reality Work?
Digital information is superimposed onto the user's actual environment using computer vision, depth sensing, and tracking technologies. The ability to precisely put virtual things within the actual environment is provided by AR applications, which use a device's camera to scan the area and identify features. With their bodily presence still intact, users are able to interact with virtual content thanks to this.
Applications of Augmented Reality
There are numerous uses for augmented reality in various fields. AR improves the purchasing experience in retail by allowing customers to see things in their own environment before making a purchase. AR makes it possible for experts in architecture and design to superimpose virtual models onto actual spaces, which helps with project planning and visualization. The use of augmented reality (AR) is changing how we interact with information and our environment and has applications in navigation, gaming, education, and healthcare.
Advantages and Disadvantages of Augmented Reality
There are several benefits to augmented reality. By giving consumers up-to-date information and contextual data, it improves situational awareness. By superimposing instructions, diagrams, or other relevant data onto the user's field of vision, augmented reality (AR) can help increase production and efficiency in a variety of industries. To be widely used, however, augmented reality must overcome issues like a constrained field of view, dependence on a gadget, and unwanted distractions.
Read also:
Virtual Reality vs. Augmented Reality
Although virtual reality and augmented reality are similar, they are not identical in terms of their fundamental functions. Users can enter virtual worlds thanks to the realistic, completely replicated experience that VR offers. The real environment is improved by augmented reality (AR) by superimposing digital content. Both technologies have distinctive advantages and uses, and research and development are still being done on the subject of any prospective convergence.
Future Trends in Virtual and Augmented Reality
VR and AR have a promising future as technology advances. We may anticipate the development of more sophisticated and transportable technology, improved rendering and visuals, and improved user interfaces. Developments in haptic feedback and sensory integration may potentially further increase the immersive qualities of VR and AR, making them even more engaging and realistic.
Conclusion
Virtual and augmented reality are changing how we see and communicate with the world around us. These breakthroughs have endless potential and have already had a significant effect on numerous industries. As VR and AR grow, we might expect them to revolutionize entertainment, learning, healthcare, communication, and a number of other aspects of our life.
FAQs (Frequently Asked Questions)
1. Are Virtual Reality and Augmented Reality the same?
No, virtual reality and augmented reality are two separate technological advancements with different purposes. While AR overlays digital content to improve the actual world, VR produces a completely immersive virtual experience.
2. Can Virtual Reality cause motion sickness?
Due to the sensory conflicts between movement and visual perception in virtual reality, some people may feel nauseated or uncomfortable when using it. However, improvements in VR technology are meant to reduce these problems.
3. What are the major industries benefiting from Augmented Reality?
Applications for augmented reality can be found, among others, in the retail, architectural, gaming, educational, medical, and navigational fields. Every sector uses augmented reality (AR) to improve customer experiences, increase productivity, or offer fresh ideas.
4. Will Virtual and Augmented Reality merge in the future?
There is currently research and development being done on the fusion of virtual reality with augmented reality. Despite the fact that the technologies have different functionality, efforts are still being made to integrate their advantages and produce mixed reality experiences.
5. How will Virtual and Augmented Reality impact education?
Virtual and augmented reality have the power to transform education by delivering immersive and engaging learning experiences. They can help students explore difficult ideas, go to historic locations, and take part in lifelike simulations, all of which can improve learning.
ence.